If you think that you've mastered all the new features of iOS 11, then you're in for a surprise because iOS 11 contains many hidden features that might go unnoticed. We'll outline 30 hidden features in iOS 11 that you probably didn't know about. From a new document scanner to better storage management solutions, this list will explore all of the hidden gems in iOS 11 that you should check out.
1

Move Multiple Apps at Once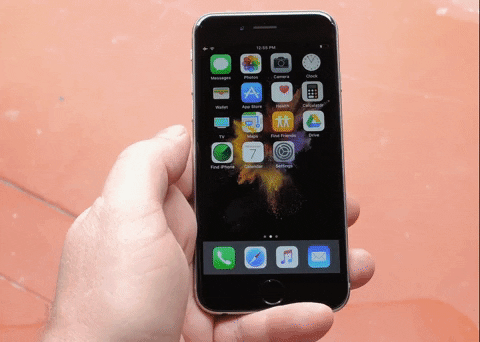 Organizing the apps on your iPhone Home screen has always been a tedious task, but this is no longer the case in iOS 11. You can now move multiple apps at once from one page to another as opposed to iOS 10 which allows you to move only one app at a time. Here's how to use this feature:
Tap and hold on an app until it starts wiggling.
Next, touch and hold on an app that you wish to move and drag it to an empty area. Do not let go of the app just yet.
Using another finger, tap on other apps that you'd like to move together in a group.
Once you're done selecting the apps to be moved, drag them to a different page on the Home screen and let go. All the selected apps will be placed there.
Using the same method as above, you can also move multiple folders at once as well as move a group of apps into a folder.
2

One-Handed Keyboard
It's difficult to type with a single hand on iPhones with a large screen, so Apple has addressed this issue in iOS 11 by introducing a one-handed keyboard mode. Once enabled, the keyboard keys move closer to each other and are pushed to either the left or the right side of the screen so that you can type more easily with a single hand.
When viewing the stock iOS keyboard, tap and hold on the globe (or emoji) icon in the bottom left side of the keyboard.
This opens a menu with a list of available keyboards and also displays three icons at the bottom.
Tap on either the first or the third icon to enable one-handed keyboard.
3

Dark Mode
Many users have been eagerly waiting for Apple to add Dark Mode functionality to iOS. While we're yet to see this feature in iOS, Apple has introduced Smart Invert in iOS 11 which mimics the functionality of Dark Mode to some extent. Smart Invert is an improvised version of the old "Invert Colors" feature present in iOS 10. It is an Accessibility feature that reverses the color of interfaces for users with vision impairments.
Open the Settings app and go to General > Accessibility.
Tap Display Accommodations.
Next, tap Invert Colors.
Toggle on Smart Invert. You'll also find another toggle named Classic Invert which works like the old Invert Colors feature.
4

Wi-Fi Password Sharing
When you have friends coming over to your house, the first thing that they'd probably ask for is your Wi-Fi password. It can be a hassle to type or give out your long, complicated password to each and everyone who wants to connect to your Wi-Fi. iOS 11 solves this problem with an innovative new feature called 'Share Your Wi-Fi' which does exactly what it says.
Now, if a friend's device running iOS 11 tries to join a Wi-Fi network that you're connected to, your iOS device will get a simple pop-up asking if you'd like to share the network's password. Tap "Send Password" and your friend's device will automatically connect to the network. The only requirement is that both of you should have iOS 11 installed, and Wi-Fi and Bluetooth toggles turned on.
5

Customize Control Center
Control Center has received a major redesign in iOS 11, and the best part is that Apple now allows you to customize it by adding, removing, and reorganizing the controls that appear.
Open the Settings app and go to Control Center.
Tap Customize Controls.
Here you'll view a list of all the controls that can be added to Control Center. Press the + button next to a control to add it to Control Center or press the – button to remove it. To reposition a control, tap and hold the dragger next to it and move it to the position you want.
6

Screen Recording
Before iOS 11, users had to rely on Mac or a third-party software to record their iPhone or iPad screen. Things are now a lot easier in iOS 11 as Apple has added the ability to record your screen right from your iPhone or iPad without using a computer. Open Control Center and tap on the Recording button to begin recording your screen. If you don't see the button, make sure that you've added it to Control Center from Settings.
7

Scan QR Codes from Camera App
In iOS 11, you no longer need third-party apps to scan QR codes because the stock Camera app is now capable of doing it. Using it is quite simple. All you have to do is to open your iPhone's camera and point it at the QR code you want to scan. It will immediately scan and interpret the QR code as well as allow you to take an action, e.g. open a URL in Safari.
8

Four Levels of Light Intensity for the Flashlight
A useful feature that was added to the flashlight in iOS 10 was the three different levels of light intensity. This feature was available to 3D Touch devices only, but non-3D Touch devices can also access it in iOS 11. Furthermore, there are now four levels of light intensity available for the flashlight in iOS 11.
To adjust the light intensity, 3D Touch or tap and hold on its icon in Control Center to expand it, then choose the light intensity that you want.
9

Disable In-App Ratings and Reviews
You must have came across an app that displays a popup asking you to rate and review their app in the App Store. Although these popups don't appear as much as they used to, iOS 11 allows you to disable in-app ratings and reviews popups so you don't see them anymore.
Open the Settings app and go to iTunes & App Store.
Scroll to the bottom and turn off the toggle for In-App Ratings & Reviews.
10

New Screen Effects for iMessage
iMessage screen effects were one of the highlight new features of iOS 10, so Apple has added two new effects in iOS 11 for more entertainment. There are now 'Echo' and 'Spotlight' effects which you can send in iOS 11 iMessage.
11

Scan Documents Using Notes App
If you use third-party apps to scan documents from your iPhone, then you might no longer need them in iOS 11. Using the Notes app, you can quickly scan documents on the go and add it to a particular note or share it with third-party apps. It also has the ability to automatically scan documents and detect their borders, set the grayscale mode, and much more. Read: How to Scan Documents Using Notes App in iOS 11
12

Offload Unused Apps
When you install a lot of apps, not only do they take up space on your iPhone, but you'll also end up forgetting about the ones that are not used as frequently. To help you save space, iOS 11 offers a new feature called 'Offload Unused Apps' that automatically removes the apps that are used less frequently. When an app is removed in this way, all of its data and documents still remain on your iPhone so that when you re-install it from the App Store, you'll get back that data.
To enable this feature, go to the Settings > iTunes & App Store and toggle on Offload Unused Apps.
13

Photos App Can Now Play GIFs
GIFs have become widely popular in the past few years. If you use them a lot, then you'll be glad to know that the Photos app in iOS 11 is now capable of playing the GIFs that you've saved. Previously, GIFs would appear as a still image, but in iOS 11, they are displayed as an animated image in the Photos app.
14

Emergency SOS
In iOS 11, you can quickly contact emergency services by pressing the Sleep/Wake button five times and swiping on the Emergency SOS slider. You can also set up emergency contacts so that they'll receive text messages of your situation and your exact location. This can be done from Settings > Emergency SOS. Note: This will play a loud warning sound and will call the police. Proceed with caution.
15

Do Not Disturb While Driving
Using your iPhone while driving is extremely dangerous and distracting. iOS 11 addresses this issue with a new feature called Do Not Disturb While Driving. When enabled, this feature will automatically silence all incoming notifications whenever it detects that you're driving.
To enable this feature, open the Settings app and tap on Do Not Disturb. Scroll down to the section labeled 'Do Not Disturb While Driving' and tap on Activate. Now select the Automatically option.
16

Screenshot Preview and Editing Tools
When you capture a screenshot in iOS 11, a preview of it will be displayed in the bottom left corner of your iPhone's screen. Tap on the screenshot preview to draw and annotate it, crop the image, add text, and access many other photo editing tools before saving it to your photos library. You can also tap and hold on the screenshot preview to share it right away with third-party apps.
17

Add Effects to Live Photos
Apple has taken photo editing a step further in iOS 11 by allowing users to add effects to Live Photos. Now when you're viewing a saved Live Photo on your iPhone, swipe up on it to view an option for adding effects. There are currently three effects; Loop, Bounce, and Exposure.
18

Snap Live Photos in FaceTime
iOS 11 now allows you to capture memorable moments in FaceTime as Live Photos. During a FaceTime call, if both the devices are running on iOS 11, a capture button is displayed in the bottom left corner which allows you to take a Live Photo. The other person will be notified when you capture a live photo.
19

Hide the Notification Preview of All Apps
You can now enjoy more privacy in iOS 11 with a new option that allows you to hide the notification preview of all apps. To do so, go to Settings > Notifications > Show Previews and either select the Never or When Unlocked option.
20

Siri Translation
Siri is much smarter in iOS 11 as it can now translate from English to a number of other languages such as German, Spanish, French, Italian, and Mandarin Chinese. All you have to say is something like "How do you say Hello in French", and Siri will quickly translate it as both text and audio that you can read through and replay if required.
21

Hide Apps from Your Notifications History
If there are certain apps which you don't want to appear in your list of pending notifications, then you can easily block them in iOS 11. Go to Settings > Notifications, tap on the app which you want to hide, then toggle off Show in History. Now whenever you view your list of recent notifications (previously called Notification Center), the app's notifications won't be displayed. However, new notifications from the app will appear on your Lock screen or as a banner at the top of the screen.
22

Disable Cross-Site Tracking
If you're concerned about your privacy when browsing the internet, Safari offers a new feature in iOS 11 that tackles this issue to some extent. It can prevent websites from tracking your internet usage by identifying trackers and segregating the cross-site scripting data. These trackers are usually used by ad networks to collect your usage data to show the most relevant ads, which can actually be a good thing depending on your viewpoint. Cross-site tracking is enabled by default in iOS 11, but if you wish to disable it, you can do so from Settings > Safari > Toggle off Prevent Cross-Site Tracking.
23

Prevent Websites from Accessing Camera & Microphone
While on the subject of securing your privacy on the internet, you can prevent websites from accessing your camera & microphone in Safari. This can be done from Settings > Safari > Camera & Microphone Access.
24

Pin Your Important Notes to the Top of Notes App
If there are specific notes that you access frequently on your iPhone, then you can pin them to the top of the Notes app in iOS 11. This is extremely useful when you have a long list of notes and the important ones get lost amongst this list. To pin a particular note, swipe it to the right while in the list mode, and tap on the orange pin icon.
25

Storage Management Recommendations
If you're running into storage issues on your iPhone, iOS 11 has an interesting new feature that will help you save space. The storage management section in Settings provides a number of recommendations that will help you free up space on your iPhone, such as uploading photos to the iCloud library, auto-deleting old conversations, offloading unused apps, and so on. To view these recommendations, go to Settings > Storage > iPhone Storage.
26

Add Tables and Drawings to Your Notes 
A lot of new features have been added to the Notes app in iOS 11, including the ability to draw visual notes inline as well as add custom tables. Open a specific note and tap anywhere to bring up the keyboard. Press the + button to unhide the toolbar above the keyboard. From the set of icons that appear, the first icon allows you to add a table to the note whereas the pen icon lets you add inline drawings without leaving the note.
27

Convert Safari Web Pages to PDFs
iOS 11 makes it very easy to convert web pages in Safari to PDFs. From the Share Sheet menu, tap on Create PDF. Safari will then convert the web page to a PDF file and display it. You can also annotate anything on the PDF file before sharing it with other apps.
28

 New Method to Shut Down
Normally, you can shut down your iPhone by holding the Power button and swiping the 'slide to power off' option. In iOS 11, Apple has added a new option in Settings that will allow you to switch off your iPhone. It comes in handy when the Power button doesn't work properly. To shut down your iPhone from Settings, go to General and scroll all the way to the bottom. Tap on Shut Down, then swipe the 'slide to power off' option to switch off your device.
29

Answer Phone Calls Automatically
There are times when you cannot reach out to your iPhone to answer the incoming call, such as when you're driving. iOS 11 now allows you to answer phone calls automatically so that you don't miss out on important calls again. Open the Settings app and go to General > Accessibility > Call Audio Routing. Tap Auto-Answer Calls and toggle it on. You can also set the amount of time to wait before the incoming phone call is answered automatically. This gives you some time to decide whether you want to reject the call or not.
30

Type to Siri
If Siri is unable to understand your accent, or you are in a place where you can't speak, then iOS 11 has a solution for you. Instead of speaking, you can now type your questions to Siri and it will reply back with the answer. To enable this feature, go to Settings > General > Accessibility > Siri, then toggle on Type to Siri. Now when you invoke Siri, it will display a keyboard for entering your question.